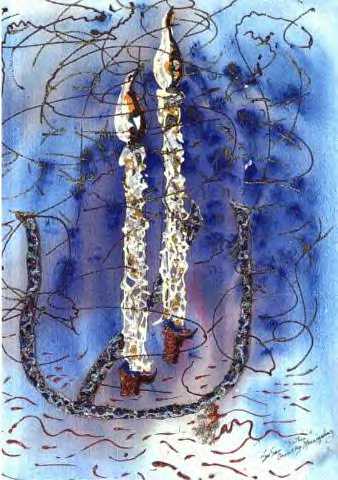 I do not know much about
Sabbath
. I am learning how to
Rest
, and
Delight
is finding more space in me and with others. I am truly blessed to be surrounded by people—a community even—who are willing to look at things in new ways and break out of molds that have held them for most of their lives.
This morning I awoke very early and spent some quiet time in prayer and contemplation. The Bible verse for the reading today was this:
For as high as the heavens are above the earth, so great is his love for those who fear him.
(Psalm 103:11)
I was taking it in and really feeling the expanse of God's love until I reached the words "for those who fear him." I ponder why those words must be there. Who made the translation? Is fear required to receive the expanse of love? I tried to convince myself that a little "healthy fear" is good for everyone, but my mind continues again and again to the damage done when we are hammered and shamed with a fear-based God. And, how the God of love
never
leaves us. While a fear-based God is not the topic of this post, I wanted to mention that because it seems relevant to the way I spent my evening last night—my Sabbath. It was an evening where the presence of an expansive, loving God was very, very present.
Eight of us were called together for Sabbath—to light the candles, share food and wine and enter into a time of delight. I can see the evening unfold in my mind, but something stops me from putting it onto paper. Somehow, in this case, words seem to limit the experience. I do, however, feel the great desire to mark this occasion for those times when I might not remember so vividly. The evening was a true blessing and will continue far longer than the flame of those Sabbath candles.
As I opened my computer this morning I was greeted with the sweet aroma of last night's Sabbath once again. It seems most apt to share these words of our host that arrived in my inbox this morning.
"Just settled down to do some Meister Eckhart meditation and the first one that popped up as I randomly opened the book was this:
God's peace
prompts service among brothers and sisters.
In that way one creature
sustains another.
One enriches the other,
and that is why
all creatures are interdependent.
That is so evidently real tonight. I am grateful for you all and our mutual sustaining and enriching.
So that was the first meditation I read, and it is now the last. Want to soak it in."
Me, too. I want to soak it all in. My hope is to continue to learn and experience more of Sabbath, Rest and Delight. That hope is for me, for you, for the World! It is a hope as we consider entering the season of Advent which begins one week from tomorrow. Amen & Shabbat Shalom!